Meet again The More, The Better
On/offline interactive artwork as learning website for a masterpiece restoration & restart project
Meet again The More, The Better is an online platform with participatory interactive art where you can experience the restoration and creation process of The More, The Better by Nam June Paik.
Host / Organizer
MMCA 국립현대미술관
Exhibition Period
2022. 9. 15. - 2023. 2. 26.

Work Scope
Interactive Art
Web Design / Dev.
Graphic design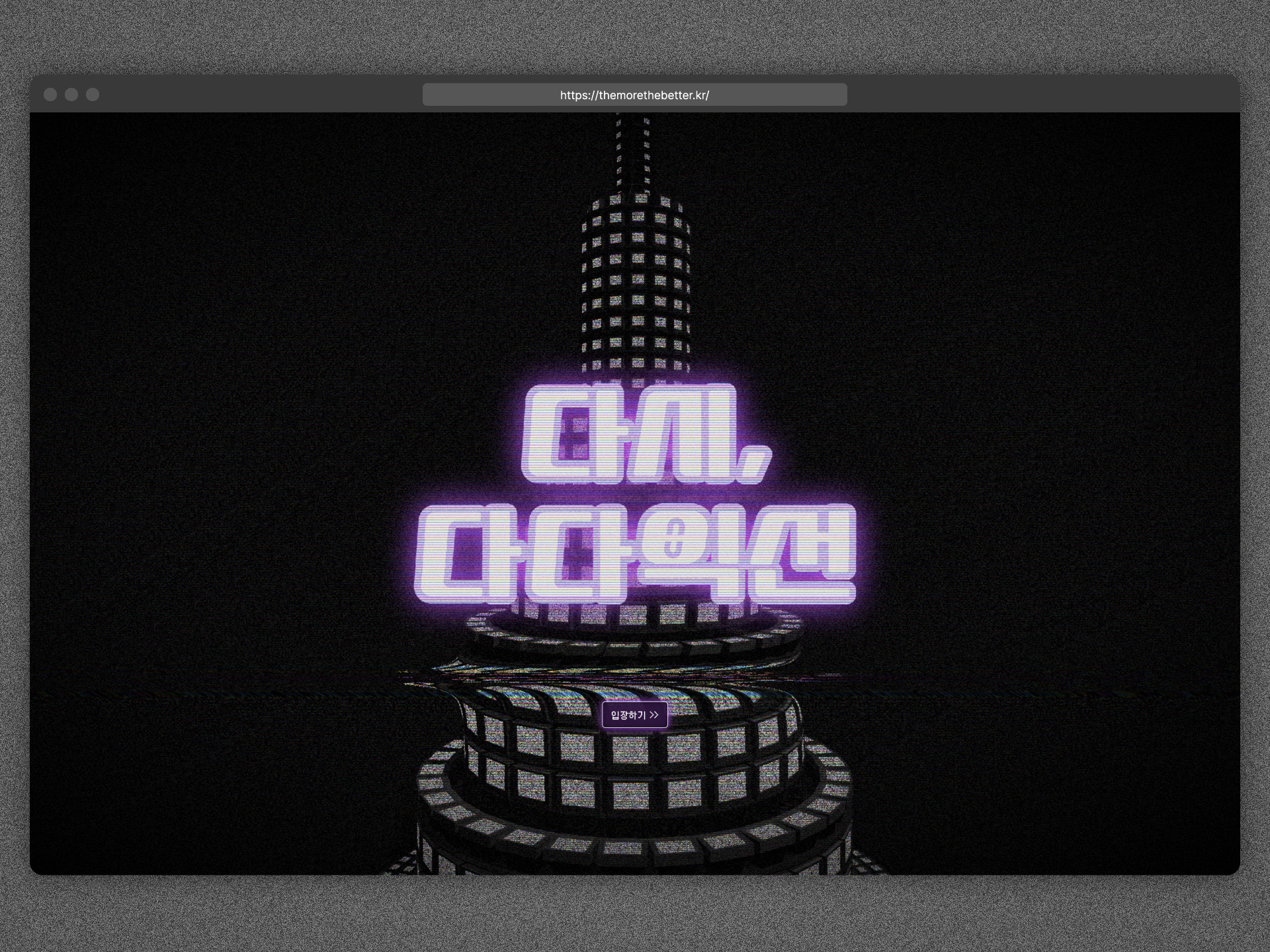 Learn about The More, The Better
Four online learning courses are available to learn about the more, the better. The learning content is divided into four sections: "About," which looks at the structural features of the the more, the better; "Production," which looks at the behind-the-scenes story of production; "Message," which looks at Nam june Paik's media art and its significance in artwork; and "Restoration," which tracks the three-year restoration process.

All educational material is set up with interactive features like 3D and motion visuals to help participants become more engrossed in the lesson. Every time the participants finish a lesson, they receive one of four items which are made to respond to the four different forms of TV breakdown. Theses items encourage the participants to experience all of the lesson material as an essential component of the participatory interactive artwork.

학습 콘텐츠에서는 다양한 측면에서 다다익선에 대해 배울 수 있는 네 가지 온라인 교육을 제공합니다. 학습 콘텐츠의 주제는 각각 다다익선의 구조적 특징을 들여다 보는 "돋보기", 제작 비화를 알아보는 "탄생기", 다다익선 속 백남준의 미디어아트와 그 의미를 살펴보는 "메시지", 지난 4년의 복원 과정을 따라가는 "복원기"입니다.

모든 학습 콘텐츠는 3d, 모션그래픽과 같은 다양한 상호작용 요소를 이용해 참여자가 학습에 더욱 몰입할 수 있도록 구성되어 있습니다. 각 학습을 완료할 때마다 제공하는 네 개의 아이템은 실제 다다익선 TV의 네 가지 고장 유형에 대응하도록 구성되어있으며, 참여형 인터랙티브 아트의 필수 요소로 참여자가 모든 학습 콘텐츠를 체험하게끔 독려합니다.

Create your own media art

In the same way that Nam June Paik's analog video synthesizer functioned, participatory interactive artwork offers a virtual video synthesizer that enables participants to produce their own media art by using the items earned through educational contents. This virtual synthesizer makes use of Shader, which optimize WebGL performance, to provide a workspace where you can go beyond simply sampling and do work that is equivalent to actual video synthesizing.

Participants can connect image sources to their devices, such as photos and live webcams, and then use various buttons and sliders to restore the images nearly to their original state. Participants can syndicate the original as well to make it unrecognizable. Participants in this procedure can be media restorers or video artists like Nam June Paik.

참여형 인터랙티브 아트에서는 백남준이 아날로그 비디오 신디사이저로 작업했듯 참여자가 학습 콘텐츠를 통해 획득한 아이템들을 활용해 자신만의 미디어 아트를 창작할 수 있는 가상의 비디오 신디사이저를 제공합니다. 이 가상의 신디사이저는 webGL의 성능을 최대로 끌어올릴 수 있는 Shader를 활용해 단순한 맛보기를 넘어서 실제 비디오 신디사이징과 동일한 작품을 만들 수 있는 환경을 조성합니다.

참여자는 실시간 웹캠, 사진과 같은 이미지 소스를 장치에 연결한 후 다양한 버튼과 슬라이더를 조정해 원본에 가깝게 복원할 수도, 원본을 알아볼 수 없게 신디사이징 할 수도 있습니다. 이 과정에서 참여자는 백남준과 같은 비디오 아티스트 혹은 미디어 복원가가 될 수 있습니다.
Display and enjoy your artwork

Online virtual gallery in the shape of "The More, The Better" is where participants can display and view their media art creations. Just as Nam June Paik hoped to employ "The more, The Better" to gather visuals from around the world in real time and display them on it, the virtual "The more, The Better" displays the works of various participants in real time.
Through the experience journey of "Meet Again The More, The better" which is connected from learning to creation and exhibition, we hope that "The More, The Better" will go beyond just restored artwork and reach participants as organically alive media art.

다다익선의 모습을 한 온라인 갤러리에서 참여자의 미디어 아트 작품을 전시하고 감상할 수 있습니다. 과거 백남준이 위성을 활용해 실시간으로 세계 각지의 모습을 한데 모아 다다익선에서 상영하고자 했듯, 이 가상의 다다익선은 실시간으로 제출되는 수많은 참여자의 작품을 즉각적으로 상영합니다. 학습에서 창작, 그리고 전시로 연결된 다시, 다다익선의 체험 여정을 통해 다다익선은 단순히 복원된 작품을 넘어서 유기적으로 살아있는 미디어 아트로서 참여자에게 다가가고자 합니다.