Picturebook :
play and link
Interactive art for online exhibition
Picture books that provide comfort and power in everyday life across the boundaries of play, art, reality, and fantasy have connected images + text, children + adults, media + media. The Picturebook: play and link sheds light on 10 picture book writers who actively experiment and connect to various fields such as light, sound, nature, play, and environment in a series of efforts that have always sought new connections.
Invited Artist
Kim Jimin 김지민, Moon Seungyeon 문승연, So yunkyung 소윤경, Lee Myungae 이명애, Lee Suzy 이수지, Jang Hyunjung 장현정, Cha Jungin 차정인, Han Byeongho 한병호, Han Saetbyeol 한샛별, Han Sungmin 한성민
Host / Organizer
Seoul Metropolitan Gov. 서울특별시
Seoul Design Foundation 서울디자인재단
DDP 동대문디자인플라자
Sponsor
Picturebook Association 그림책협회
Korea Publishers Association 대한출판문화협회

Work Scope
Interactive Art
Exhibition Planning / Design
Web Design / Dev.

Exhibition Period
2020. 12. 20. ~ 2021. 2. 28.
The main works of 10 invited artists were implemented as interactive art content, allowing visitors to enjoy a new experience connected to them. Through collaboration with the artists, each content has been designed to help visitors feel and discover the theme by playing with the work. Anyone can experience it anytime using mobile phones, tablets, and PCs wherever the Internet is available.
Reflect
Kim Jimin, 《 Hide and seek 》 2017
Color
Moon Seungyeon, 《Yellow, blue, red, color the world》 2020
In the interviews, the invited artists and the first president of
Picture Book Association
will talk about art and picture books. You can find various and detailed stories about the picture book through five series, including what picture books are, what kind of people are picture book writers, and how picture books are made with what materials.
Since all the videos were filmed in the actual studio where artists make their picture books, viewers can see the scene where picture books are made more vividly. At the same time, you can appreciate the main works right there.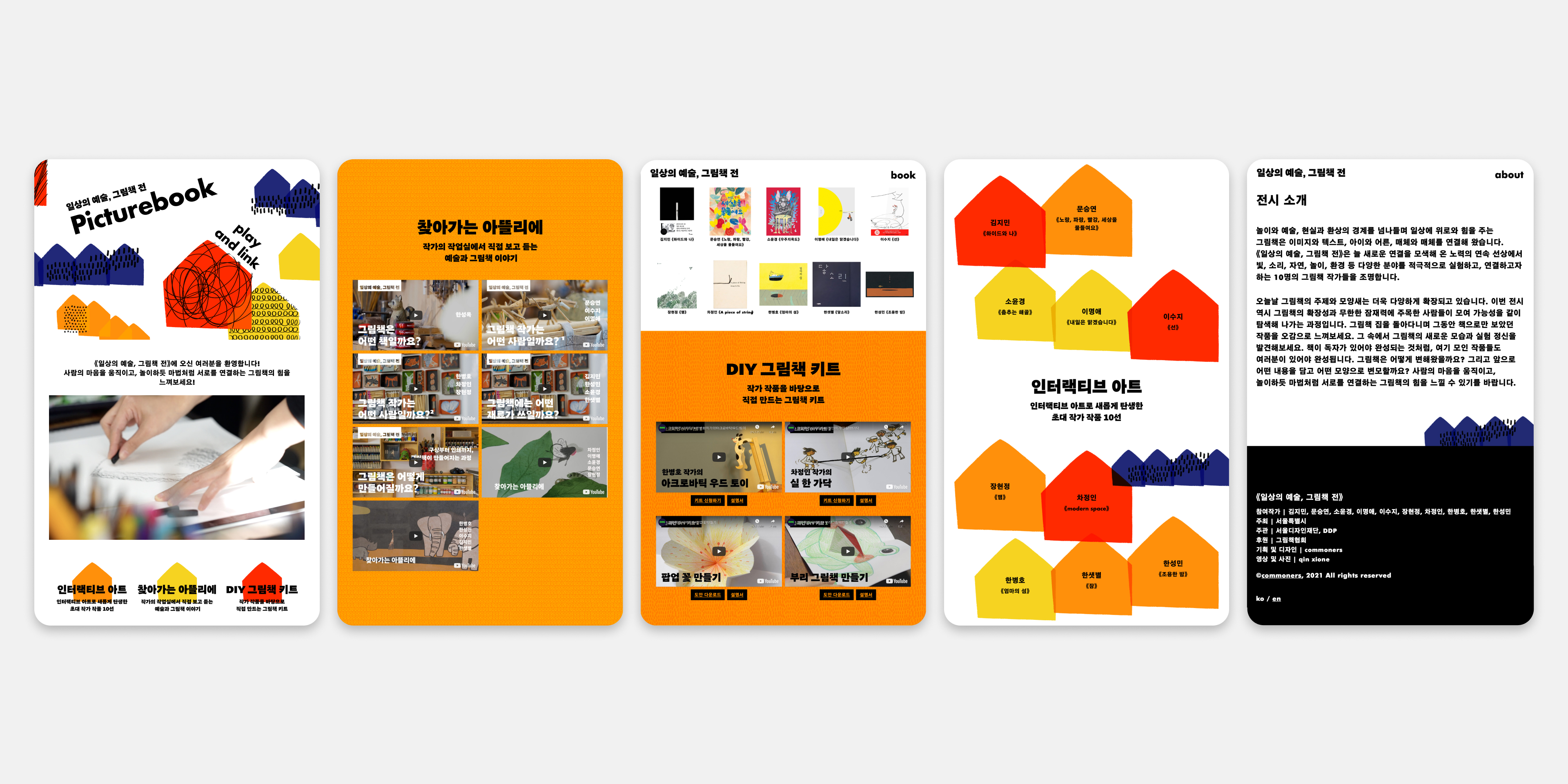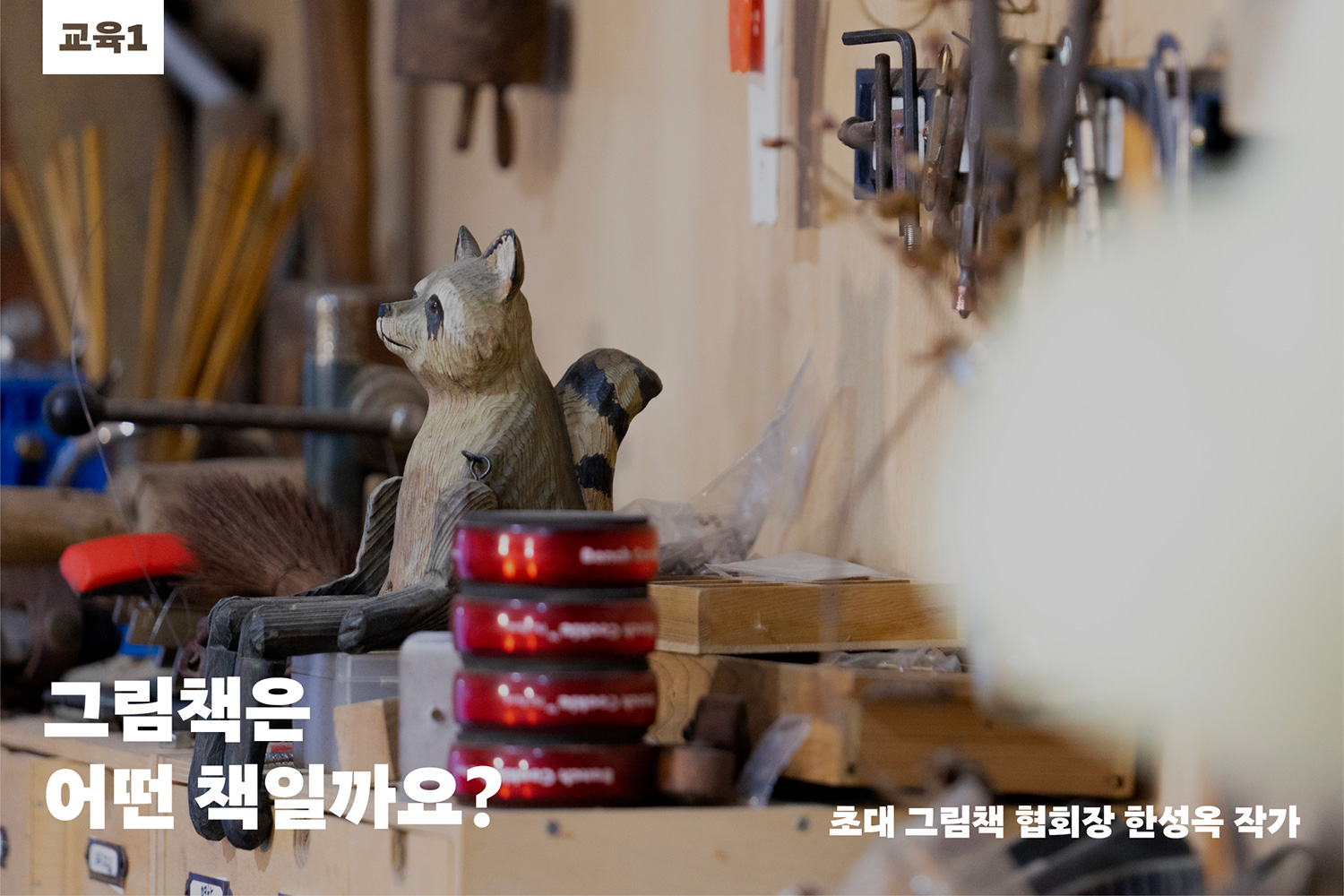 Picturebook
Han Sungok (1st President of Picturebook Association)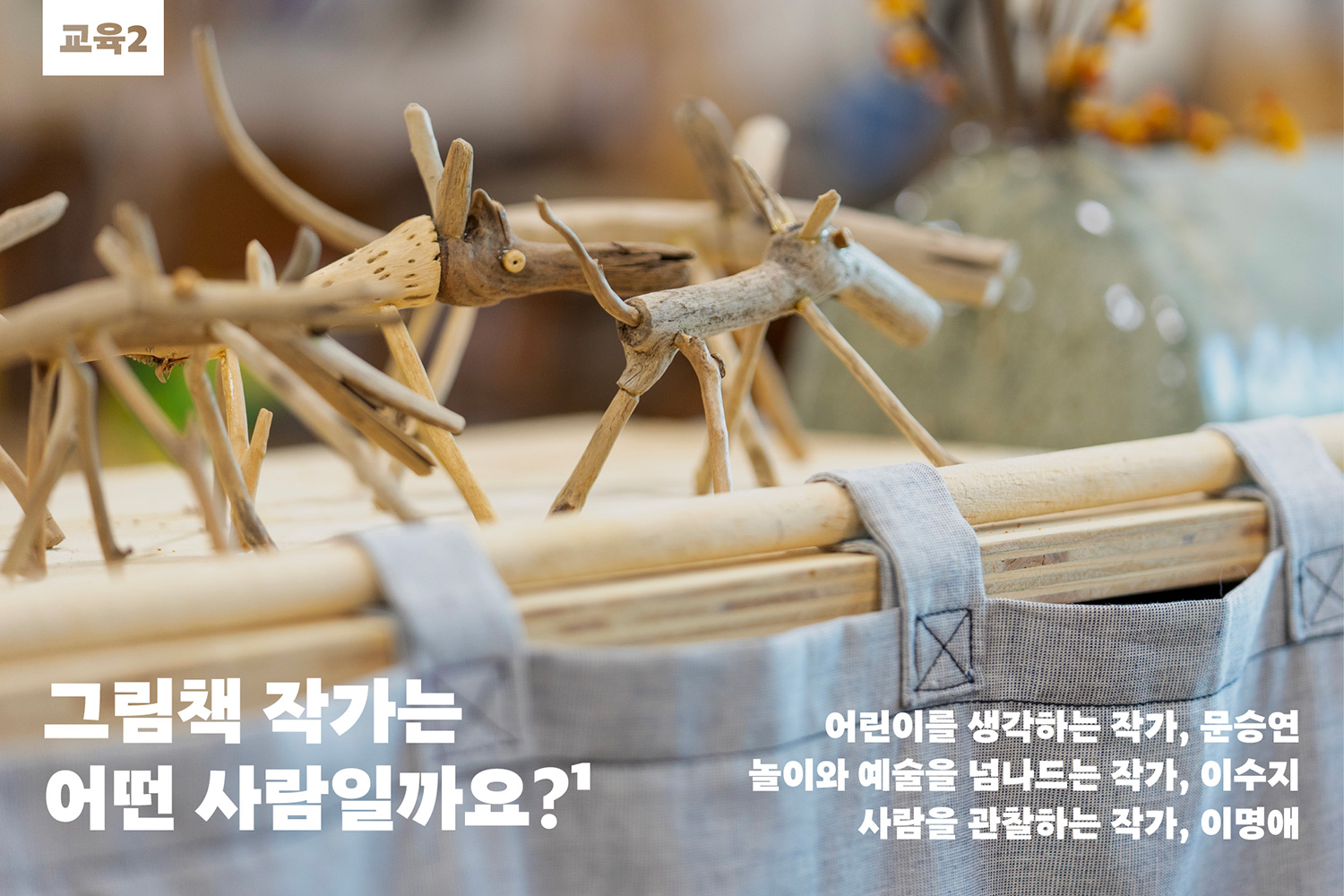 Picture book writer 1
Moon Seungyeon, Lee Suzy, Lee Myeongae
Picture book writer 2
Han Byeongho, Cha Jungin, Jang Hyunjung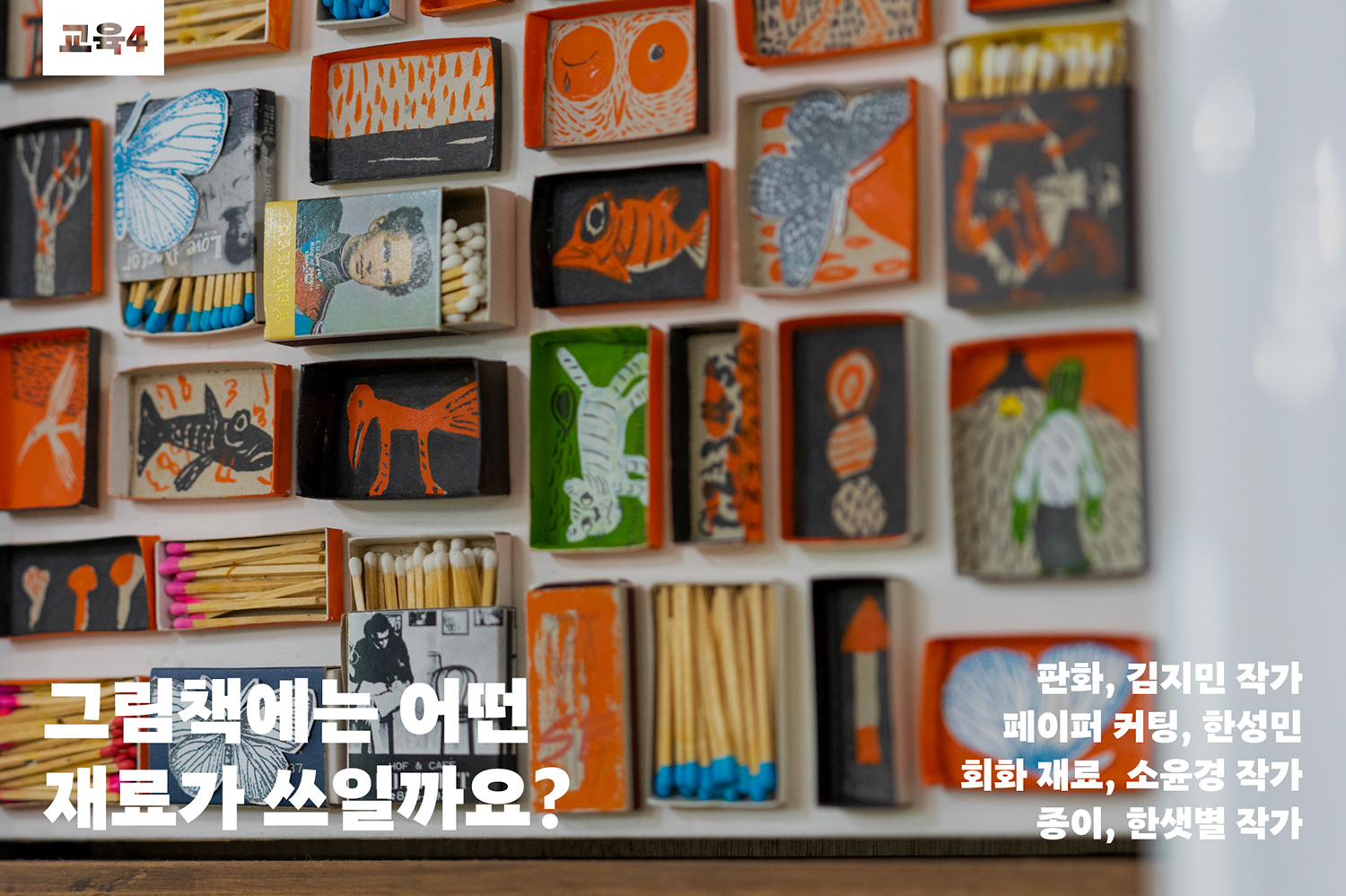 Material
Kim Jimin, Han Sungmin, So Yunkyung, Han Saetbyeol
Production
Hansol Education, AONE CTP, Ejen D&P, Hyundae Bookbinder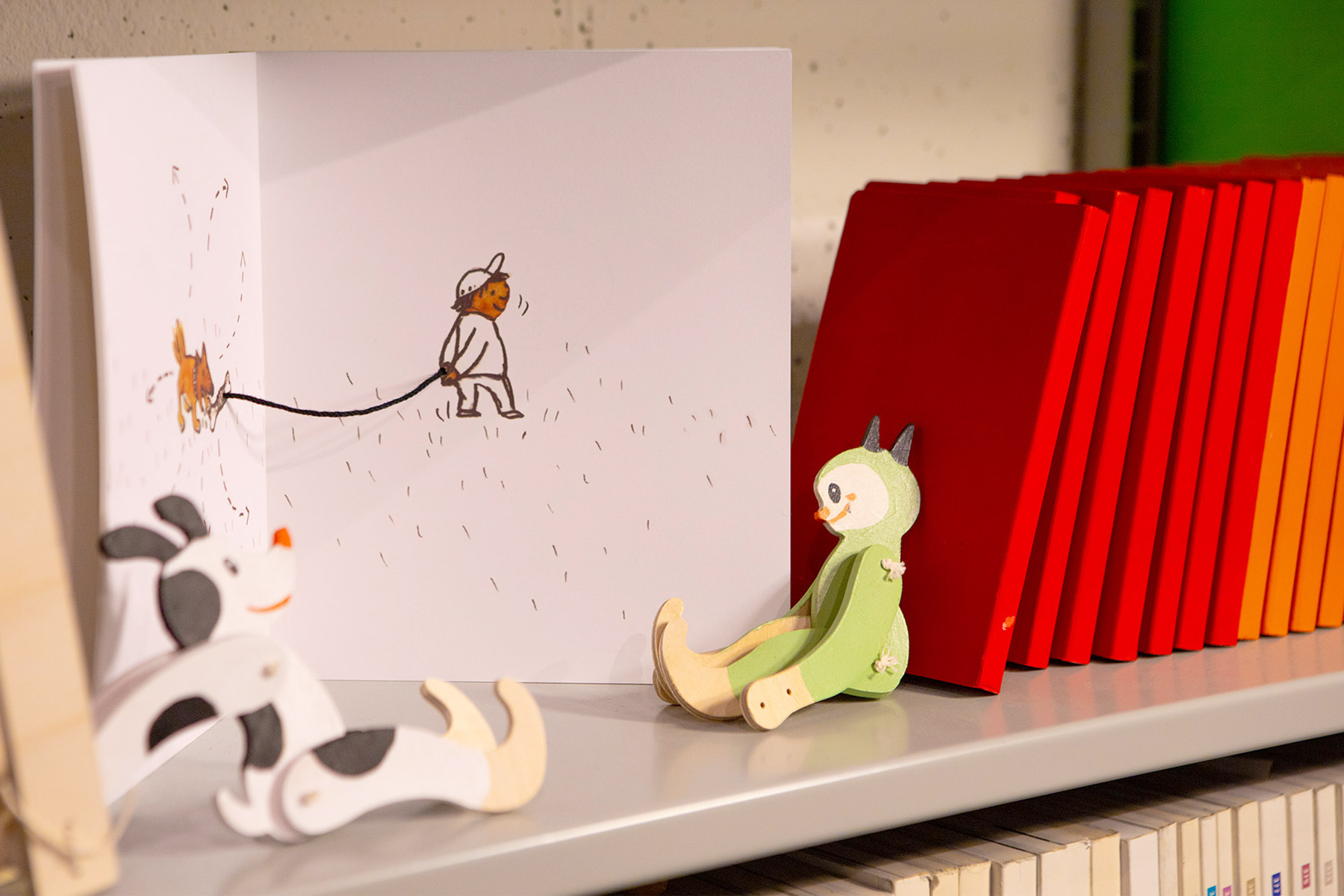 There are four DIY kits. Cha Jung-in's "A piece of string" is a book that all pages in it lead by a string. Han Byung-ho's "Acrobatic Wood Toy" is an assembly toy consisting of wooden character silhouettes.
The other two kits are designed to be printed on paper such as A4 paper and made any time, anywhere with just a printer. All kits come with a making video, so anyone can easily participate in making kits.

The copyright of all paintings belongs to the artists who painted them, and the copyright of all interactive art contents belongs to @commoners.